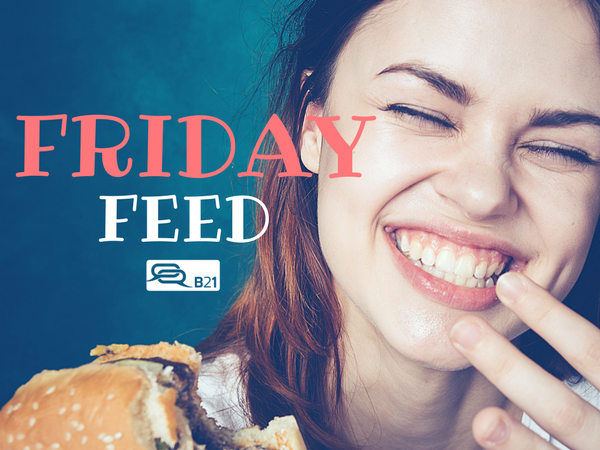 Friday Feed is your virtual tapas bar of tasty morsels about all things digital. Spice up the end of your week and load up on some bite-size news to share over a well-earned bevvie. Feel free to add your own flavour by sharing and commenting below.
On the button
'Sharing', 'Liking', 'Following' – these have become the true currency of social media. And the last thing you want is to make life more complicated for readers who want to share your message and content. Which is why we've been enjoying this excellent blog over at Hootsuite on how to create and embed social media 'buttons'. It's much easier than you'd think.
Lost in translation
While you wouldn't know it by looking at online content, English is just the third most spoken language in the world – Mandarin and Spanish leave it in the dust. So why then do companies looking to build global presence persist in not translating their content into other languages? It is actually a lot easier than you think. This great step-by-step guide gives you some simple tips on how to not only see where your international audiences live, but what tools exist to translate your content into other languages. Give it a go today and send us your links.
Ummm, that's kinda gross
When was the last time you took your phone out of its case? If it's been a while you might be in for a shock. Dust, dirt, and Lord knows what else has a habit of finding a home on your phone and if you have a bit of a germ-phobia, it can be a little unnerving. Enter PhoneSoap – a UV light sanitiser that claims to kill '99.9 per cent' of germs and bacteria on your device. Overkill? Maybe. But read on and we guarantee you'll never look at your digital best friend the same way again.
Keep calm and vote
The current marriage equality postal survey hasn't exactly been smooth sailing with many would-be voters still staring at empty postboxes. But do not despair – the survey forms are still being delivered and that process may not be complete until early next week. If yours is still missing though, contact the ABS after next Monday (September 25) and they will ensure a new form is delivered before the October 27 deadline.
The kids are all right
While Facebook's global reach continues to grow, there is one market segment that seems to be leaving the social media behemoth behind – young people. It's unlikely Zuckerberg and Co are hitting the panic button just yet, but this week saw the release of another study that shows 12-17 year olds are leaving Facebook behind in favour of Instagram and Snapchat. Read the full rundown here along with some tips on what it might mean for your social media strategy.
It's all about the timing
There is no point putting the time and effort into making some excellent social media content that no one sees. When it comes to posting online, timing is everything. Which brings us to this excellent infographic laying out what time of day is best to post on various social media platforms. The answer? Well, it's not as simple as you might like.
QUEENSLANDER!!!
We can't help but get parochial sometimes and we are tipping our hat to Brisbane tech company Nightlife Music which this week became the first music company ever to make it into the Australian Financial Review's Top 50 most innovative companies – they came 26th to be precise. The company cut its teeth putting video jukeboxes into pubs and clubs (thanks for all those singalongs!) and now has a global presence thanks to partnerships with major companies like Spotify.
So bad yet so very very good
There are so many reasons to head down to Sydney. Business meetings, catching a show at the Opera House, watching the beautiful people at Bondi. But few things have us more excited that this – a Mac'n Cheese Doughnut. That's right people, everyone's favourite cheesy pasta treat is now a deep-fried circle of pure joy. Sydney, we salute you. Oh look, there's a flight sale on.
Online advertising, done right
Beer ads – despite the staggering amounts of money thrown at them, they have rarely been that inspiring. Generally speaking they are just the usual collection of cliches stitched together under sunlight and blokey good times. Which is why we have been impressed by the eminently sharable online campaign pulled together for the London-based Camden Town Brewery. Great characters, perfect scripting, beautifully produced – it's making us thirsty.  Here's to Friday then.