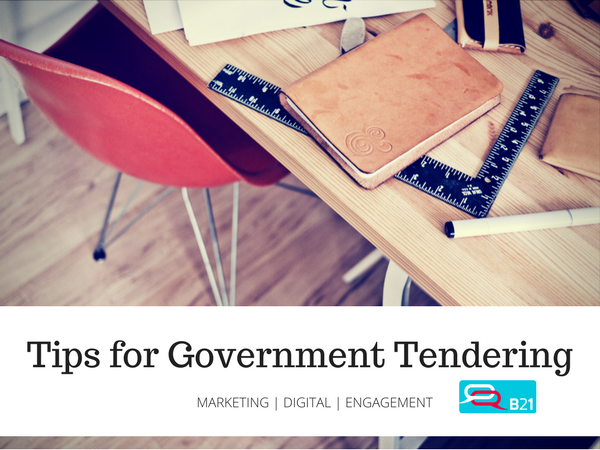 Completing Government tenders can be a groan inducing task for even the most seasoned business professional. However working with Government is too good a business opportunity to pass up.
Did you know Queensland Government will spend $10.1 billion in capital expenditure in 2017/18?
(Queensland State Budget)
You guessed it, to get a piece of the $10bn action, you will need to complete and win a Government tender.
business2one have completed several government tenders to win business, we won a position on a Federal Government SOA (standing offer arrangement) panel through tender submission, and we have also assisted Government departments to prepare tender documentation and evaluate tenders.
While we know a thing or two about Government tenders, we recently attended a Queensland Government information session about submitting tenders, and how to make them (hopefully) successful. Here's some hot tips from those on the inside.
Conforming tenders – don't trip at the first hurdle
Don't let your tender get put to the side without a glance due to non-conformance.
Complete every section, even if it does not apply. If the section does not apply to your business, add a statement explaining why, eg. "This question does not apply because …"
Provide a full response to every question. Don't use responses like "See Question 7". Copy and paste the appropriate response into every question, even though it may be repetitive. Each assessor may not receive a full copy of the tender response, and can only evaluate what they have been given.
Responses should be succinct and to the point, even though the tender may not be.
Must, will shall. Observe these words in the documentation very closely. These words indicate a mandatory requirement. If you don't meet this requirement, your tender offer will be put aside as non-conforming.
Current/emerging Government priorities
Local – a business whose workforce is within 125km of delivery. Unless you are a local business, to address this priority successfully, you will need to link your offer to the 'local' regional workforce. A local benefits test with a weighting of up to 30% may be applied.
Track record – proving your track record in similar delivery is critical. Don't assume any knowledge, it must be included in your offer for it to be evaluated, even if you are the incumbent provider.
Levels of service – what are the difference between your business and others? Offer over-delivery on requirements, eg. $0 accommodation and travel, weekly fortnightly service at no additional cost etc. Articulate this value.
Subcontracting opportunities – the hidden path
Develop experience and a proven track record through subcontracting to major providers.
Details of all awarded tenders over $10k are published online. It is worth contacting the winners of tenders and talking to them about the role your business could play in their delivery.
Understand where you fit in the supply chain. Check out the tier barometer tool.
Websites to signup to today – get the latest tender information
QTenders – view contact names for tenders.
Queensland Contracts Directory – includes Standing Offer Arrangements
BAS eTender – Building and Asset services
Vendor Panel – supplies government with the ability to search for vendors within a certain radius, as required under the 'local' priority.
And the final tip. If you are unsuccessful in your tender with Queensland Government, ask for feedback. You will most likely get a face-to-face meeting, at the least a phone call, from one of the evaluators, which may be priceless for your future business opportunities.
If you need help putting together a Queensland Government tender response, business2one have the experience to make your offer stand out with well-written, beautifully presented documents. Contact us for an obligation-free discussion.