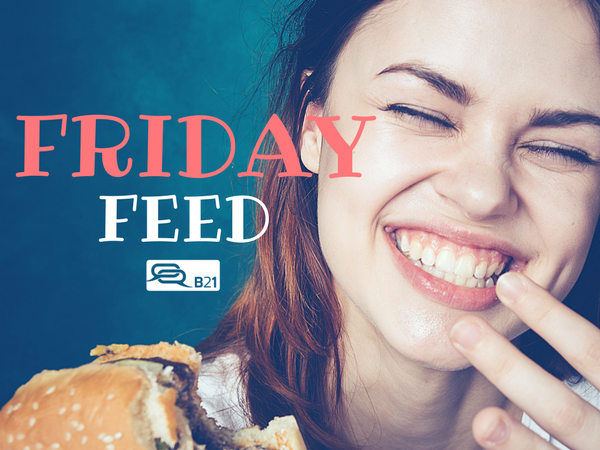 Friday Feed is your virtual tapas bar of tasty morsels about all things digital. Spice up the end of your week and load up on some bite-size news to share over a well-earned bevvie. Feel free to add your own flavour by sharing and commenting below.
Social media steamroll continues
Close to half the planet's population is now using social media according to the latest 'Global Digital Statshot' from We Are Social and Hootsuite. The folks over at thenextweb.com have pulled together an excellent summary of the data which shows more than 3 billion people globally are using social media, and growing fast. Head here for the full rundown.
The Rock keeps on cooking
After surrendering top spot to Cara Delevingne for a week, Dwayne 'The Rock' Johnson has again climbed to the top of Hollywood Reporters' Top Actors Social Media Ranking.
Make those ads SNAP
No, Snapchat is not just for the kids (apparently). In a bid to take the sharing platform to the next level, Snapchat has announced a suite of upgrades to its Ad Manager that it says have been designed to "…make building, managing, and scaling your campaigns even easier." Read more about the update here.
Avengers Assemble
If you have been putting off visiting GoMA's incredible Marvel exhibition, you better get in move on. It closes September 3. Thor goodness guaranteed.
If it ain't broke…
Skype's new redesign has many asking the question 'why'? It may be sleeker and brighter, but initial chatter online has been less than receptive. Check it out here, and tell us what you think.
Whats the story?
Facebook's 'Stories' feature hasn't exactly set the world alight. But the social behemoth hasn't given up yet, with new camera features set to be included in the latest update. Create GIFs, go 'Live' more easily, use even more filters – the timewasting potential is endless.
Insta-book?
Meanwhile, Instagram keeps rolling out the features, and its latest move is to include 'threaded comments' – probably the most loved/loathed feature of rival Facebook. Update to the new version and get ready to rant. Read more about it here.
Be counted
Want to take part in the upcoming postal plebiscite? Well, time is running out to either enrol to vote or update your details. Seriously, it takes a few minutes at www.aec.gov.au. Stop reading and go to it, now.
And here are some baby meerkats. No explanation required.