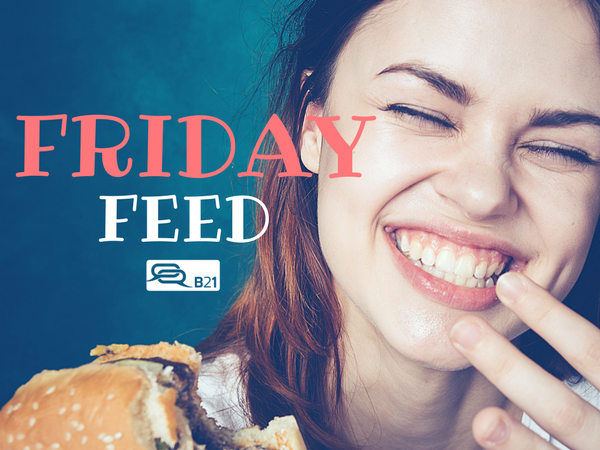 Friday Feed is your virtual tapas bar of tasty morsels about all things digital. Spice up the end of your week and load up on some bite-size news to share over a well-earned bevvie. Feel free to add your own flavour by sharing and commenting below.
Black Friday Madness
Shoppers everywhere rejoice! More discounts are happening online and instore, this time its the annual Black Friday sale. Click here to find out which retailers are offering huge reductions. Run, don't walk and get sorted for Christmas.
Is it Fake News?
If you've ever been caught out relaying a piece of news you found online and took as gospel, only to find out later it wasn't true at all and was in fact "Fake News", then Facebook's latest attempt to prevent the spread of false information will cheer you up. PC Mag has more details on the Trust Indicators Facebook are looking to implement giving you the option to make a more informed decision on the integrity of what you're reading.
New phone checks
Got yourself a new phone and think you've set it all up correctly? Gizmodo has some handy tips on 7 settings to change as soon as you've set up your new phone to help protect your information and make sure everything's working as you want it.
Social media tips for job hunters
If you're thinking about or actively looking for a new job, you might want to have a think about what you're posting in your social media profiles. Recruiters may be looking at this to make an assessment of you as a candidate and may not properly appreciate your drunken selfies! Have a look at some of the Do's and Don'ts of Social Media for Job Hunters from Social Media Today.
Need some extra cash?
This time of year sees money disappearing from our wallets at an alarming pace. If you need a little help to restock the coffers, see these 4 easy ways to make a little extra cash with your smartphone and let your phone start earning it's keep.
Christmas gift ideas
The count down is on and if you're stuck for ideas on what to buy for your Secret Santa person, Entrepeneur has provided some inspiration with 11 gift ideas perfect for co-workers, employees or the entire office.
What is cryptocurrency?
The word cryptocurrency is one we are hearing more of every day as digital currency technology expands. We've heard of Bitcoin, but in reality, what does it all mean? We've found a couple of interesting articles that might help explain how it works. Entrepeneur's Bitcoin and Other Cryptocurrencies and HuffPost's Cryptocurrency Trading Explained. Is it a potential gold mine awaiting?
Best free apps
There are so many applications available to choose from it's hard to see what's worth downloading or where you may get hit with hidden charges. Lifehacker have helped out with a list of the best 50 free apps.
Watch out for the Tweetstorm
What is a Tweetstorm? Twitter has confirmed it is testing a new feature to make it easier for Twitter users to create chains of individual tweets that exceed the current 280 character limit – a Tweetstorm. TechCrunch has more info on the updates and what it all means.
Thinking of starting a blog?
Have you got a message to get across and want to create a blog, but are not sure where to begin? See this comparison of 12 popular blogging platforms to get you started.
Social Media win
So we've heard of Boaty McBoatface, Trainy McTrainface and Ferry McFerryface as past winners of various vehicle naming competitions. Well one British council has run it's own social media campaign seeking a name for 2 of it's new vehicles, quickly shooting down the option of following in the McFace vein. See more here of how the Doncaster Council played the social media game and steered the competition for best effect.