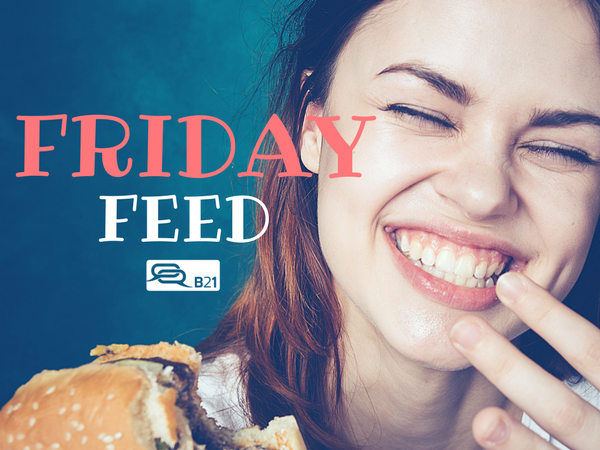 Friday Feed is your virtual tapas bar of tasty morsels about all things digital. Spice up the end of your week and load up on some bite-size news to share over a well-earned bevvie. Feel free to add your own flavour by sharing and commenting below.
Happy Birthday #Hashtag
We'll be blowing out the candles today for the ubiquitous 'hashtag' that turns 10 this week. Mashable have taken a look at the history of hashtagging and you'd be surprised how low-tech its origins were.
Planet of The Apps
If you are spending less time on a desktop and more on your mobile device, you are certainly not alone. New US data out this week from comScore shows that more digital time is being concentrated on mobile apps and, perhaps not surprisingly, a concentrated groups owns the lion share when it comes to usage. Guess who is number one? Head here for a full analysis.
Can Snapchat make you smarter?
There is no shortage of marketing experts creating content on the web right now. It's become an entire industry in itself. But who is worth following, let alone believing? Thankfully those kind people at Hootsuite have listed some of their favourite Snapchats that focus on marketing, and we think they are spot on. Tune in and learn here.
ido.com
Is there such a thing as too much tech? Check out this couple's tech themed wedding and you be the judge. USB bouquets?
Is LinkedIn still the business?
If there is one social platform that seems to be all about 'the business' it's LinkedIn. But is it really the best B2B social network out there? We enjoyed this excellent wrap up of the pros and cons of LinkedIn for business. The verdict? You tell us!
Tech 'Tip of the Week'
Just when you thought you'd figured out Facebook, along comes something new. Among the most effective new features for business is being able to swap your page 'Cover Photo' for a 'Cover Video'. The possibilities are endless and we came across this excellent step-by-step guide to not only creating a video cover, but actually making it work for you.
When is a car ad, not a car ad?
Making branded online content is a tricky beast. But we think car manufacturer Volvo has nailed it with a stunning collection of what can only be described as short films produced as part of its 'Human Made Stories' series. Head to Adweek for a fascinating look behind how it all came together. And watch our favourite of the series below. (Spoiler: Tears are likely.)