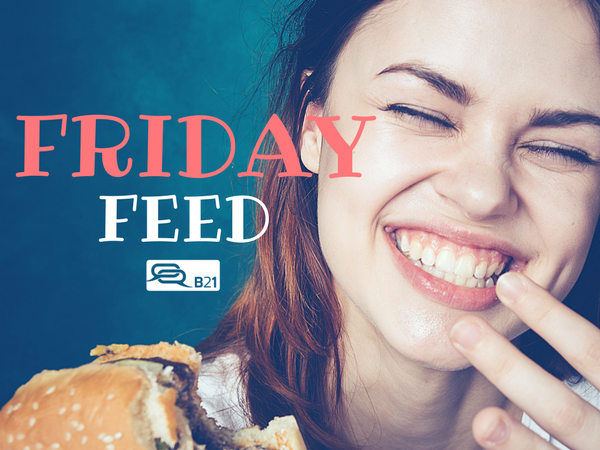 Friday Feed is your virtual tapas bar of tasty morsels about all things digital. Spice up the end of your week and load up on some bite-size news to share over a well-earned bevvie. Feel free to add your own flavour by sharing and commenting below.

Clean up your gadgets
You may want to have a think about spending some of those spare minutes over the holidays, maintaining your tech devices to help keep them working at their best. Gizmodo has some some tips on all the annoying tech chores you need to do when you have time. Sort out all those Christmas and New Year photos!
Know your audience
If you make regular posts on social media for either business or personal purposes, have you thought about your audience, who they are and what kind of content they like? Entrepreneur has some insights into how to customise your content for a successful social media strategy. Find out more with their article 10 free tools to help you understand your social media audience.
Optimise your website visibility
Have a website that you're not sure is performing as you want it to? Need to increase the right kind of traffic to your business? Now's the time to ensure your site is working towards your goals with 4 ways to increase the visibility of your website.
Relive your 2017 photographic memories
With the coming of the new year, it may be time for reflection on the year that was. The 2017bestnine.com website helps you collect your most liked Instagram photos of 2017 and put them into a collage for a year wrap up. Find out more here. Snapchat has also added a Look Back at 2017 feature where you can find the past year review in the memories tab.
Figuring out Google Home
Get a Google Home device for Christmas and having troubles working it out. You're not the only one. See this video of an Italian grandmother discovering the magic of Google Home. Alternatively, check out Wired's more practical advice on how to set up your Google Home.
Freebie alert
Everyone loves a bargain, especially at this time of year when we're recovering from holiday spending. Check out this article from Digital Trends on How to find the free stuff on Amazon, from free digital albums, cloud storage, ebooks, apps and more.
The best tech for flexible staff
More and more businesses are utilising a remote or flexible workforce these days, and the need for digital solutions to create a seamless and productive workspace has increased. Here's some ideas for the best tech for working remote in 2018.
Take a break
So we may have that new year verve encouraging us to get stuck in at work and achieve some of those new resolutions made for career improvement, but taking a break is also important in helping maintain productivity. This free desktop app reminds you to take computer breaks during the day, helps with refocusing and improving your health, got to love that.
Toolbox for social media marketers
If you're a social media marketer wanting to improve your content and are stuck for ideas, see these 18 apps and tools for social media marketers with some great info on how to get the best out of your visual and written posts.
Need a hobby?
Thinking of broadening your horizons and trying something new this year but aren't sure where to start? The Urban List has some ideas to get you started with 18 hobbies to start in 2018.