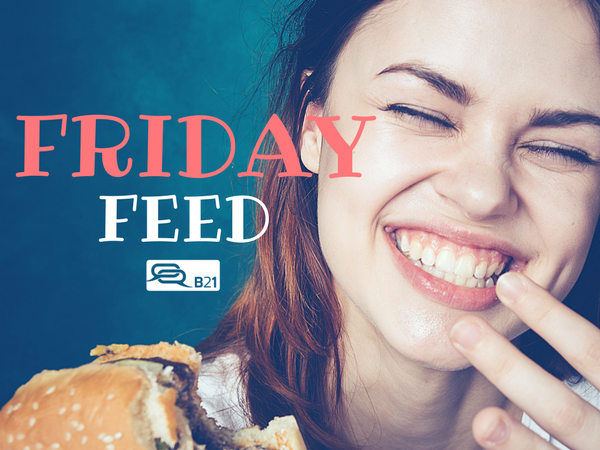 Friday Feed is your virtual tapas bar of tasty morsels about all things digital. Spice up the end of your week and load up on some bite-size news to share over a well-earned bevvie. Feel free to add your own flavour by sharing and commenting below.
You've got mail! Lots of it…
Say what you will about our Google overlords, their Gmail platform has become one of the best email systems on offer today. It's highly likely though that you are only using a fraction of its potential. Enter the lovely folk at PCMag who have pulled together this excellent cheat sheet on how you can use Gmail to conquer that mountain of email.
Digital Dad
It's Father's Day on Sunday (you haven't forgotten, have you?) and rather than reaching for the standard socks + booze combination, why not celebrate his inner tech boffin with some of these gift ideas? Because nothing says 'I love you' like nerdy gadgets.
Insta-update
Building photo albums on Instagram has largely been an exercise in frustration. Thankfully though, the photo sharing network has made some welcome changes that (finally!) allow you to post both portrait and landscape photos into an album. Head to Mashable for the full rundown.
Ted-spiration
We've all been there – trying to roll out a new marketing strategy but in the midst of a creativity rut. Lately the b2one team have been enjoying this excellent wrap up of the some 'must-watch' Ted Talks that can help get your mojo back.
Total eclipse of the heart
The recent Northern Hemisphere solar eclipse wasn't just a rare natural phenomenon, it was a unique chance for savvy online marketers to use the event to roll out some rather clever content. Check out this rundown on some of the best.  And while you're at it get planning for the next one.
How much is too much?
You are probably no stranger to spending money on Facebook advertising. And you are also probably no stranger to the question of 'How much?' Despite the potential Facebook advertising offers, there is no point wasting your budget – which is why we enjoyed reading this excellent guide to how to setting your Facebook ad budget.
I want my NBN!
Let's be frank, the rollout of Australia's much-needed NBN broadband network hasn't exactly been smooth sailing. Even just finding out when your street may be able to connect has been a mystery. But as Gizmodo reports, the NBN Co have taken steps to provide more clarity around when your home or business will be NBN ready. Take your chances here.
Duly Noted
Another day, another 'greatest phone of all time' claim. This time though we think afr.com might be on to something. If you have been toying with breaking with your Apple addiction, then Samsung's Galaxy Note8 may just be the little shove you need.
File under: Must eat NOW
Oh, be still our beating little hearts. Just when you thought you'd eaten everything worth having, along comes CHOCOLATE-LOADED DOUGHNUT FRIES (and yes, that's in all caps for a reason). Can we suggest beaten a hasty retreat to Eat Street Northshore in Hamilton. Now. Just don't get in our way.
Hero of the Week – Mattress Mack
We often hear businesses saying they strive to 'do the right thing.' Well it's been wonderful to see one business this week making good on the pledge. In the wake of the devastating flooding in Texas, eccentric furniture retailer Mattress Mack turned his enormous shop floor into a shelter for those forced from their homes. His motivation? 'People before profits'. Mack, we tip our hat to you.