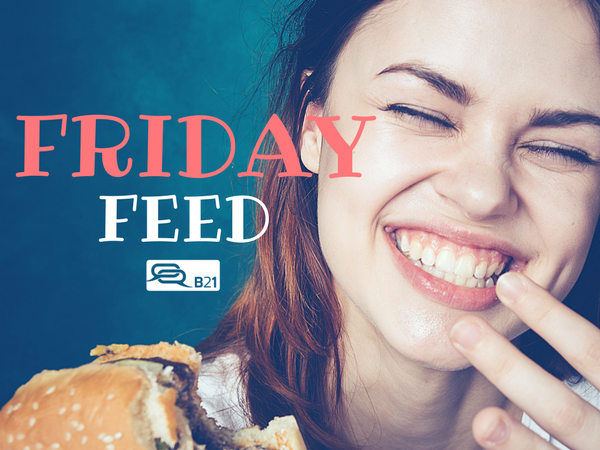 Friday Feed is your virtual tapas bar of tasty morsels about all things digital. Spice up the end of your week and load up on some bite-size news to share over a well-earned bevvie. Feel free to add your own flavour by sharing and commenting below.
Bumble your way to a new job
Bumble has introduced it's new business networking mode – Bumble Bizz, with the option for users to build their own digital resume on the app. It's also applying a "women first" approach enabling female users to make the first move with the intention of reducing abuse and inappropriate behaviour. It's still in it's soft launch phase in Australia with the official launch due in December. So along with Bumble's dating function and Bumble BFF mode, you will be able to find yourself a new date, friend or job.
Don't freak out but… 
Instagram is about to make changes set to upset a lot of people. Users have been use to the 3 x 3 grid, however it looks like Instagram are planning to change the well-loved layout to a new 4-across profile grid. Stay calm and find out more here.
Uplifting social media
We're all used to hearing how our prolific use of social media results in negative effects on our health and wellbeing. But check out this article with tips on how social media can actually have positive benefits to your emotional state of mind if used in the right way.
Expand your Tweet
Frustrated at not being able to fit all you want to say into your tweets? Well Twitter is testing a new expanded tweet format, increasing it's character limit from 140 to 280 characters. Here's to less abbreviations and better expression.
Live stream your events
Vimeo has launched it's live streaming platform – Vimeo Live, giving creators the ability to capture, edit, stream, and archive their live events in addition to hosting, distributing, and generating revenue from their videos.
Prepare for 2018
There are some significant technological innovations coming up that are set to change the way we use social media in 2018. Get a headstart by checking out this article from Entrepreneur with info on 10 social media trends to prepare for.
Find your happiness
Japanese life can be notoriously stressful, but with the philosophy of ikigai, many are finding a new reason to get up in the morning. It's practice embodies the happiness in living and can be applied to work and personal life. With a possible contribution to professional motivation, personal fulfilment and even longevity, must be worth a look.
Say goodbye to free news
Using Google search to access free news articles may become a thing of the past as Google unveils measures to help publishers make more money from their online content. Although it will end it's "First Click Free" program which allowed users to read news articles without paying, Google will still advocate for some free content, encouraging publishers to implement a try before you buy approach.
Keeping it friendly on Instagram
We're all too aware of the negative effects that online trolls and cyberbullies can have. Instagram have launched new tools giving users the ability to control their settings and restrict who can comment on their posts. Read this article from Forbes on how to block unwanted comments on Instagram and other innovations they have put in place to promote a friendly platform for everyone.
Big things on the way out?
Say it isn't so. Rumours are that some of our treasured "Big" Australian icons may be sent to the scrap heap. Read more on what may happen to those memories from childhood road trips.
Extreme cuteness to get you through Friday
Here are some cute highland cows, no explanation required.